TOP 50 RV Dealer Award: Good Life RV
11/19/2019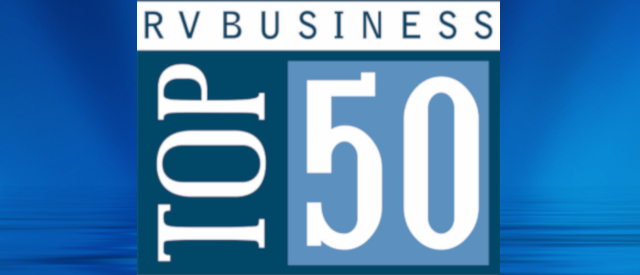 Update September 2022: We are thrilled to let you know that we received our 3rd Top 50 Dealer Award for 2022. This is our third consecutive award and we want to thank you for all your support and for making us Your RV Outfitter.
Update September 2021: We are honored to let you know that we received our 2nd Top 50 Dealer Award for 2021. Stop in and meet our staff that makes it all possible today.
RVBusiness magazine recently released the list of its 2019 Top 50 RV Dealers in North America Awards recipients, which included local RV dealer Good Life RV locations Good Life RV – Webster City and Good Life RV – Des Moines.
From Vice President, Adam Ruppel. "It is a great honor for everyone at Good Life RV to have been chosen as a Top 50 Dealer in North America. Without the dedication and hard work of our staff, none of this would be possible."
RVBusiness and marketing communications agency BJ Thompson Associates asked RV manufacturers to nominate dealers across the United States and Canada who exemplify best practices and excellence in their field. Nominees were then invited to fill out comprehensive applications covering a wide array of subjects, including practices pertaining to consumers, staff, marketing, charitable endeavors and overall business procedures. An independent panel of industry experts then pored through scores of applications during an intensive two-day, closed-door session at the RV/MH Hall of Fame & Museum in Elkhart, Ind., known as the "RV capital of the world."
RVB Top 50 Administrator BJ Thompson said the selection process was exceptionally intense this year. "Our panel of judges was about as intently engaged as we've ever seen in completing their evaluations and final selections. There were some dynamic debates among the judges regarding the dealer finalists," Thompson reported. "We saw evidence of dealers not resting on their laurels of past performance but placing additional emphasis on service technician training and pressing for even higher levels of customer satisfaction."
Their motto at Good Life RV is "You know where your own good life is…We're just here to help you find your way!"
The RVB Top 50 Awards honorees will be publicly recognized on stage Nov. 13 at an all-industry reception held during the Recreation Vehicle Dealers Association International Convention/Expo at Caesars Palace Las Vegas Hotel & Casino, thanks to support from program sponsors Airxcel, Brown & Brown, Cummins Power Generation, Dometic Corp., Freightliner Custom Chassis Corp., Lippert Components Inc., Northpoint Commercial Finance, NTP-STAG, Protective Asset Protection and Wells Fargo CDF.
Ruppel says about receiving the award. "Clearly the competition for a Top 50 Award is loaded with some of the Best RV Dealers. This is a culmination of many years of dedication to our mission of providing the best customer experience and helping people achieve Camping Happy!"
Good Life RV Webster City
"Just when you thought you'd seen it all, that the dealer applicants had pretty much played out their hands with regard to innovative, thought-provoking approaches to RV retailing, this year's applicants took things to a new level in terms of creative business practices, new-age marketing, charitable outreach, tech training and bar-raising approaches to consumer care," said RVBusiness Publisher Sherman Goldenberg. "We have an outstanding group for 2019."
For more information about Good Life RV visit www.glrv.com or on Facebook at https://www.facebook.com/goodliferv/ or call 515-207-9457 for their Webster City location or 515-218-2288 for their Des Moines location.